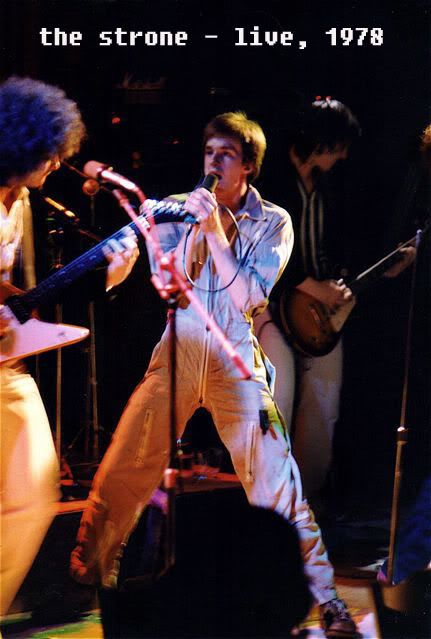 today's episode includes an interview with the strone's andrew & john, as well as four songs from the original recordings of their material! download it right here.


playlist:

1. theatre of hate - original sin
2. gavin friday & maurice seezer - man of misfortune
3. spears of destiny - everything you ever wanted
4. sexgang - bathsheba
5. red lorry, yellow lorry - he's read
6. joy division - warsaw
7. the strone - another day (excerpt)
8. the strone - college girls
9. the strone - the in crowd
10. the strone - domestic problems
11. the very things - transfusion
12. gary numan - the observer
13. q lazzarus - goodbye horses
14. moev - wanting
15. xymox - in the city
16. big electric cat - blind
17. the smiths - sweet & tender hooligan
18. lou reed & the velvet underground - heroin
19. the happy mondays - 24-hour party people
20. john foxx - metal beat
21. nuova compagnia di canto popolare - secondo coro della lavandaie
22. balaam & the angel - two into one
23. strange boutique - easter island
24. igor spectre - beautiful dead little girl


'Extended Strone Interview - Beautiful Music for Ugly Children (BMFUC)

BMFUC: So what about influences?

Andrew:  Hmmmm. Obviously we were influenced. We loved all sorts of
music. Still do. The Stones and The Who for sure. But we also
listened to tons of stuff that we loved but just couldn't play. Like
Genesis, Yes, Roxy Music and so on. We loved the Beatles and the
Move, Pink Floyd, Lou Reed. So music was all around, but really we
couldn't play all that well so we went with whatever came out. I
think a big influence was the Les Paul. John came back from Virginia
with a tobacco sunburst Les Paul that just roared. I remember the
first time I heard it. We wrote a song on the spot. It was a song
called "Out of Control", which we still played in our set up until
the time I left. Finally getting electric instruments. That was a big
influence 'cause it expanded the palette. Gave us more things to say
in terms of sound and noise. Noise. Also a big influence. It's
difficult to underestimate the  power of amplified guitar. You
suddenly have your own voice and can tell your own stories. Quite
powerful.

BMFUC: what about the punk scene?

Andrew: When we first started playing, and you have to  understand,
John and I had started actually writing when we were 13, there was no
punk scene. We listened a lot to Lou Reed. Not the Velvet Underground
Lou, but the Rock 'n Roll Animal Lou. It was so hard ass and scary.
Heroin, Rock 'n Roll, Sweet Jane. Then Berlin. Amazing stuff. But
that was the closest we came to punk, until the Ramones came out and
the Pistols. I was in England in the Summer of '77 when that scene
had blown in and blown out with the Pistols being banned. So when I
went to clubs like the 100 Club and the Marquee and so on, there
wasn't a lot going on. But it didn't matter, we heard the records and
absorbed that stuff. The Stranglers, The Clash, The Vibrators. And of
course, when we played the Rotters Club, a lot of that stuff was
playing on the PA when the bands weren't on stage. And we heard a lot
of fresh stuff. X-Ray Spex, Wire, Gang of Four, the Slits, XTC, John
Cale. I remember some of that stuff just jumping out at me, like the
first time I heard Meccanic Dancing by XTC or Paris 1919 by John Cale.

So the first time we played in front of anyone, we weren't part of
the punk scene. We were just trying to make a lot of noise. Learn our
instruments and so on. I just wanted to write, try and make fresh
sounds. Hard and emotional stuff that expressed the intense
frustration I was feeling. Rock and Roll is such a great medium for
frustration. You can put it all out there. We had terrible sound so I
could never hear myself sing. In fact the first time I heard myself
sing with the band was when we were in the studio. So all that time
on stage I just poured my guts out regardless of whether what came
out was tuneful or not.

So we had just played in basements, Ken's mostly cause he had a huge
basement with a riser for the drums and a PA. It was actually bigger
than most places we played. And we played for ourselves and for our
friends. Then we got kicked out and had to find a gig and John came
up with the Architecture Pit gig. So that was our first exposure to
the Ottawa punk scene, 'cause the Bureaucrats were on the same bill,
and they knew about the Rotters Club and most of the bands that
played there, like the Red Squares, Art Boys and so on. It was just
very early days, so we met up with Stewart Smith, the manager of the
club, and got ourselves a gig playing sporadically for fifty bucks
and studio time. We didn't care really 'cause it was just cool to
have a place to play.

BMFUC: Who was Stewart Smith?

Andrew:  Stewart was from England. He came to Ottawa and started up
Double Helix Studios, which was an 8 track studio near Old Chelsea,
Quebec. He started up the Rotters Club as a sort of private party
hang out for his friends. His band, the Art Boys played there and
then the rest of us joined in later on when the club was formally
opened up to the public. Stewart was a big fan of the Canterbury
Scene and liked bands like Hatfield and the North, Caravan, Soft
Machine, Henry Cow and so on. In fact, the name "The Rotters Club"
was taken from one of Hatfield and the North's albums. When things
got too big for the Rotters Club venue he closed it and opened a new
club called the 80's club that was just down the street near what is
now Barrymore's. He managed to book some interesting bands into both
clubs. He snagged a lot of the bands from Toronto that were playing
the Crash and Burn and the Horseshoe Tavern. Bands like the Diodes,
Existers, Johnny and the G-Rays, Teenage Head, The Viletones and
Dishes. Later on at the 80's club they brought in the Gang of Four,
The Fast from NYC and Ultravox and so on. Really, Stewart created the
punk scene in Ottawa. He gave the bands who wanted to play their own
stuff a place to play and that was huge at the time. Bars and dances
only wanted to hire bands who could play the Top 40. So god bless you
Stewart Smith, wherever you are.

BMFUC: What were those first few gigs like?

Andrew: Well a bit of a blur really. I can remember the Architecture
Pit gig quite vividly 'cause we only made it through two songs before
some idiot architect in training threw a beer bottle through our PA.
That finished our evening. But it was exhilarating playing in front
of a crowd even if it was hostile.  The Rotters Club was a great
venue. It was downstairs in the old Volare Restaurant on Bank near
Waverly. It's a used book store now and the club space is used for
storage. But in 1977/78 it was a second home. They showed movies on
the walls during the acts. It was mostly anything that Stewart could
borrow from the main branch of the library and the National Film
Board. So there was a lot of psychedelia and animation. The stage was
tiny - on a little riser that put you uncomfortably close to the
ceiling. There was a minimal PA and a sound board at the back of the
club which maybe had about 20 tables and a bar. There was a jukebox
at the back that was always unplugged. I remember we plugged it in
once to hear the songs. It turned out to be the Beirut Top 10 or
something and the owner was pretty pissed and pulled the plug pretty
quick. I guess he didn't appreciate the fact that we enjoyed all
sorts of music and were genuinely interested. After the Action had
become notorious for "exposing" themselves at a high school dance,
they were able to fill the place on the weekend. Loads of people
drifted down to see what the fuss was all about. I remember watching
the Action in there one night. It was packed to the rafters, hot and
sweaty. And Ted and the Fenton brothers were absolutely smoking. They
were a great band.

We mostly got the dead nights. That was  fine with us. I don't really
remember playing in front of huge crowds. Loads of our friends and
the regulars. We normally did three sets and mixed out originals in
with covers of the Stones, Cheap Trick, Elvis Costello, The Sex
Pistols, The Clash and so on. We were loud and brash and highly
energetic. Loads of jumping around. Did I mention we were loud?

BMFUC: What was your studio experience like?

We went into the studio at Double Helix, which was purpose built in
Stewart's house in Quebec, just north of Ottawa. It was an 8 track
and it was like stepping onto the moon when we walked in there. Had
to check the gravity and oxygen. We laid down three tracks live,
Horses, In Crowd and College Girls. We managed to battle our way
through the latter two, but never managed to get Horses nailed. I
don't remember why, but putting it into the studio just seemed to sap
all it's energy. As it was, picking apart each song, part by part,
really became quite clinical and sterile and wasn't what I imagined
at all. I can remember trying to get drum sounds that didn't sound
like bashing card board boxes. Fussing over guitar and bass parts.
Then trying to get a vocal sound. Disappointing in a way. It was like
hearing yourself for the first time. It was interesting but it didn't
build excitement. At least not for me. It was nice to hear those
songs recorded but it just seemed too contrived at the end. It lacked
the intensity and ferocity I was hoping to bring to it. Having said
that, I feel better about it now than I did then. The spoken part at
the beginning of In Crowd is me talking to Carl Schulz, the Double
Helix engineer, who was curious about the lyrics.

Our next trip to the studios was in 1979/80 at Marc Studios in
Montreal. It was night and day. We were working with a professional
producer and recorded Domestic Problems, Another Day, Dear Jane and
Hey. I mostly just went in to do my vocal parts, but the sound was
much better, the studio was more professional and the atmosphere felt
more relaxed.

BMFUC: The three songs we played, College Girls, Domestic Problems and
In Crowd, what are the songs about?

Andrew:  College Girls was written in our first year in University.
It was about the economy falling to ruins and the thought of
graduating and not being able to find a job. It was sarcastic and
biting - or so I thought at the time. Domestic Problems was written
in late 1979 around Christmas. I remember we were practicing at a
house out near the Hunt Club, in Ottawa, that had been rented as a
practice facility. Ken was playing this fantastic riff that begged to
be turned into a song, so we jammed it out. It was the only song that
I hadn't written with John at the time. It was another piece of
sarcasm, which turned out to be slightly prophetic, at least for me.
Not that I joined Christian Science. Come to think of it, I never
quite made the banker with motor car scene either. There was a lot of
talking all night though. In Crowd was a sarcastic homage to Ted Axe
of the Action. He was a like-able, if strange lad who stumbled onto
stage and became the star of our scene. So he had to be immortalized
in song really. I don't think he ever really knew the song was about
him, but Stewart and Carl did. I think that may have been why Stewart
brokered the marriage between Ted and the Strone after I quit and the
Action broke up. Now that I think about it, I was a sarcastic little
bastard who hid behind his lyrics and his band. Actually, Another Day
is a very sincere song. I was terribly afraid when I wrote it. I was
in over my head and drowning and that's really reflected in the first
verse. The rest of the lyric is my life as a civil servant. The
bridge/verse which is spoken is completely improvised. I think it was
my middle aged self talking to my teen self. Who says you can't time
travel?

Most of our other songs were about lust and sex, teen anxiety, lack
of control and so on. I think someone once called us Teen Angst
Rockers. That was probably pretty close to the truth.